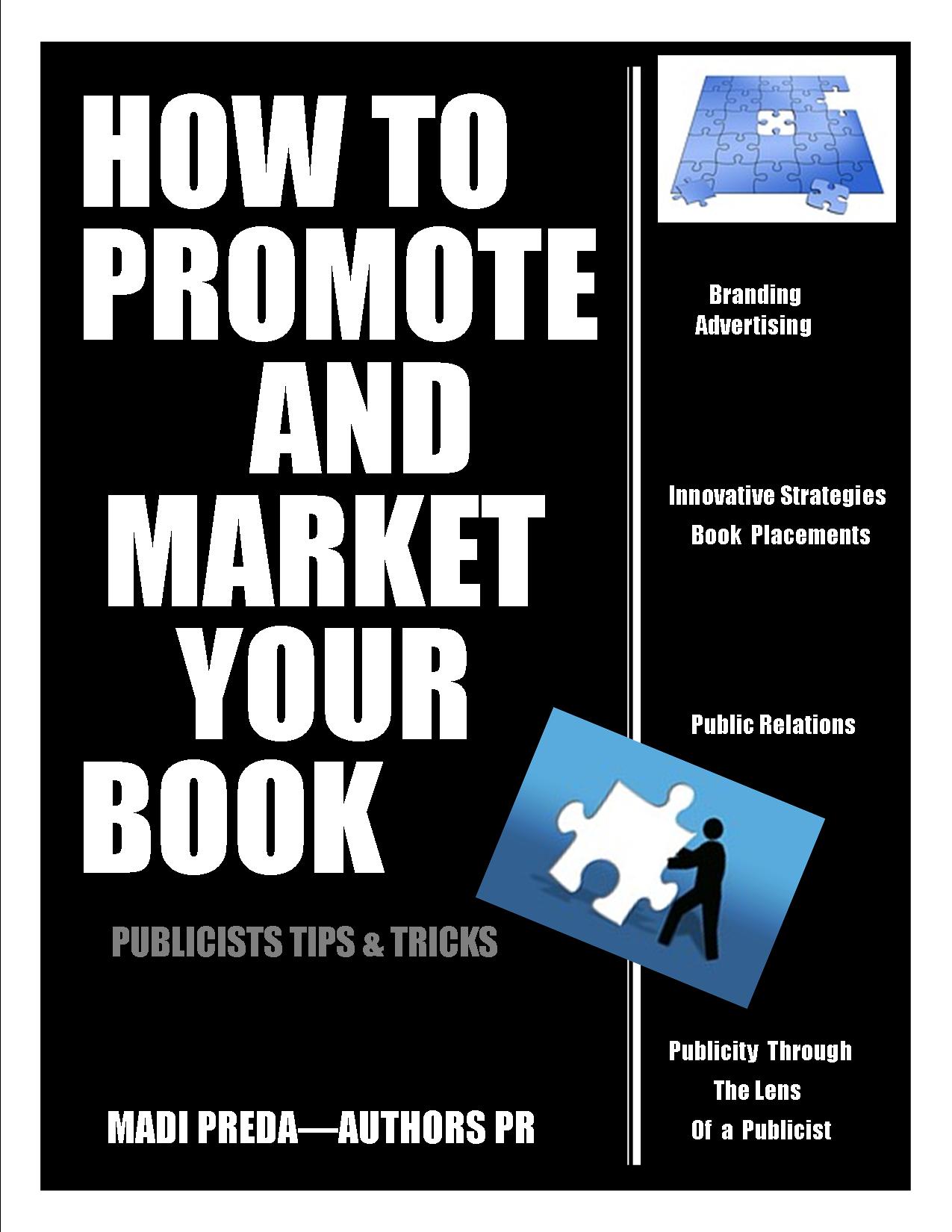 How readers perceive a book has an important role when it comes to brand yourself as a writer and promote a book efficiently and the ability to do this has become essential.No matter how talented an author is;if the readers don't know about a book how will they know to buy it or if it is a good one or not?

"Writing a book without promoting it is like waving to someone in a dark room. You know what have you done but nobody else do."
~Madi Preda

How To Promote and Market Your Book by Madi Preda is an easy to read and understandable guide designed to help every author to chart their own path and stand up and say to the world "Here is my book" and communicate the message from between the covers in an original way that call to action and make their book a must read.

The readers will:

- understand why a strategic planning can be a significant advantage

- get used to marketing techniques tailored to specific genres including guidance in identifying the right audience and find useful contacts

- build a strong online presence and author's platform while learning strategies for maximizing exposure and increase sales.

Madi Preda's Book, How To Promote and Market Your Book is a detailed, accessible and practical guide on how to make the most of social media marketing and where to start.Is a must have book which reflects changes and trends in online marketing practice,offering many case studies on publicity campaigns for different genres, marketing plans, and many contact lists for pitching media,book bloggers, and websites for promotion.

How to Promote and Market Your Book can be order at Apple, Barnes & Nobles, Kobo, and Smashwords

ISBN 9781310593680 - Electronic Edition



About the author

Madi Preda is a freelance publicist, who started doing promotion for books and writers when her husband published his two novels.Authors PR Madi Preda works with authors and publishers to create effective online marketing campaigns for traditional,self-published and print-on-demand books. At Authors PR she promotes all genres, including romance, mystery, thrillers, inspirational, spirituality, self-help, how-to, literary fiction, business, parenting, relationships and more. She created publicity campaigns for many writers, traditional or self published, publicizing more than 50 books within a year of launching her first campaign. Madi is helping authors to gain more exposure and media coverage through her online marketing campaigns and as a result of her experience she decided to write a practical guide for authors, or aspiring writers, in marketing, explaining step by step how to make a book successful from the manuscript stage to wholesale distribution.


https://www.smashwords.com/profile/view/MadiPreda
https://www.facebook.com/bookspromotion
http://authorspr.tripod.com
http://authorspromotion.wordpress.com
https://www.goodreads.com/author/show/8264654.Madi_Preda
gr.linkedin.com/pub/authors-promotion/78/9b9/2b5
I wish I would have read Madi Preda's book before I spent 3K for a Promo Specialist! I am going to address the merits of this book from two modes; one from a newbie author and the other from an educator's point of view.
As a newbie author I find myself literally drowning in all the social media world and especially for an Indie Author. I can't say enough about this book and what a powerhouse of theory, research and tools are listed here. The book is packed with real links to some of the best sites and resources for all authors. Coming from an educator's view I can honestly say that this book is very easy to read. The format is very organized and it flowed very well.
How to Promote and Market Your Book is my new 'GO TO' manual now for all my writing needs. Thank you Madi Preda for writing this book!
I'm going to start with a quote "You can write the most wonderful book in the world. But if people don't know about your book they won't know to buy it."~Madi Preda

Madi has written a must-read book. This handbook is crammed full of useful ideas, step-by-step instructions and case studies full of helpful information.

Writing a book is a HUGE dream for most people and achieving that dream is like climbing a mountain. Now it's easier to write a book and with self-publishing, hitting the button and seeing your book takes minutes. Yet this is only the beginning. Publishing a book, Madi says, is like "Opening a Small Business", and a writer needs to look at marketing themselves as the product rather than just focusing on the book. Readers follow authors not their books. Just think about some of the great writers and let that statement sink in.

There is a great piece written for this book by book reviewer Lynn Worton which I really appreciated. Madi and Lynn encourage authors to make book reviewers and book bloggers feel special because they are an important part of book sales. This just backs up my recent book review challenge series where I promoted the need for more book reviews.

Even if you haven't self-published, publishers no longer take your book and do everything else for you while you sit back and write the next, authors are expected to market their own books and there are a whole world of ideas and ways to do this inside this gem of a book. I don't hesitate to give it 5*'s and it should be a part of any writer's promotional plans.
Press Clips and Interviews